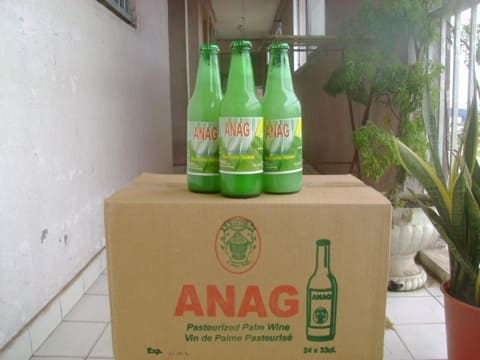 The pasteurized palm wine produced by CHEDE is bottled under strict hygiene conditions and is commercialized in bottles of 33cl and 65cl under the brand ANAG.
Manufacturing Process
Harvesting of raw material
The raw material is freshly picked palm wine. To ensure availability of raw materials in sufficient quantity and quality, our organization responsible for the harvesting (ICG Vintners South West) is fully trained in good collection practices of palm wine. Upon receipt of the raw material, a number of checks are performed to ensure reliability and compliance of the product.
Filtration
The wine is filtered in order to eliminate any particles that may be present.
Packaging
After filtration, the wine is packaged in bottles of 33cl and 65cl.
Pasteurization
Pasteurization is used to destroy any micro-organisms that may be present in the wine (essentially yeast cultures). We use a temperature-controlled discontinuous pasteurization method, which preserves the nutritional qualities and flavor of the wine.
Cooling, packaging and labeling
At the end of the pasteurization process, the wine is chilled and labeled.
Storage of finished product
The product thus obtained is put into cardboard boxes and stored in dry and cool location.
Production Capacity
Pricing
Our latest catalogue and export price list is available from our Pricing & Availability page, where you will also find regular marketplace updates.
For local sales and sales/distribution in the CEMAC region, please contact us.
Payment Conditions
Local Sales: Cash.
CEMAC, Europe & USA: Bank transfer or L/C.
Shipment & Delivery
Delivery method: Air/Maritime – FOB Douala Cameroon.
Delivery delay: 2 weeks from receipt of purchase order.
Ordering
For more information and order inquiries, contact our export desk (Marketing Office) in Douala (Cameroon):
Tel:+237 33 39 13 55
Fax: +237 33 39 13 66
Mobile: +237 22 12 52 99 / +237 77 52 22 33